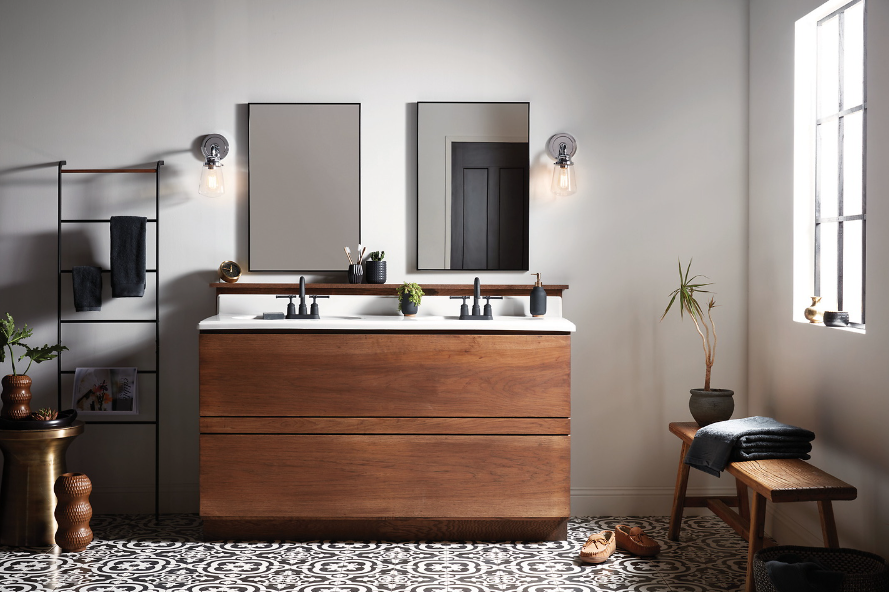 If you are remodeling your bathroom this year, lighting will play a crucial role. Your bathroom is both functional but also recreational, especially if you love long baths to relax and ease your sore muscles. Accent Lighting is Wichita's leading lighting store, having been founded in 1979. Our team of lighting specialists and designers can help you with all of your bathroom lighting remodeling needs. Below, we'll take a look at how to approach a bathroom lighting remodel. Shop in person, or browse online today!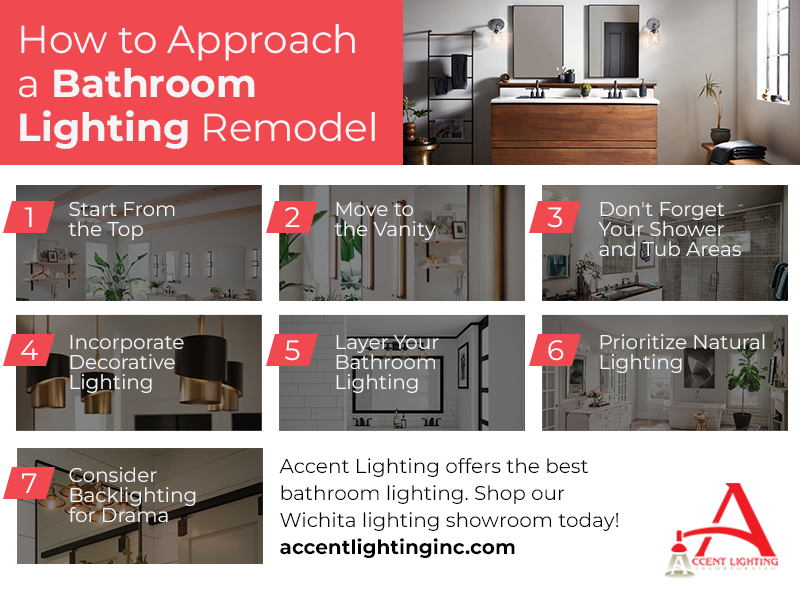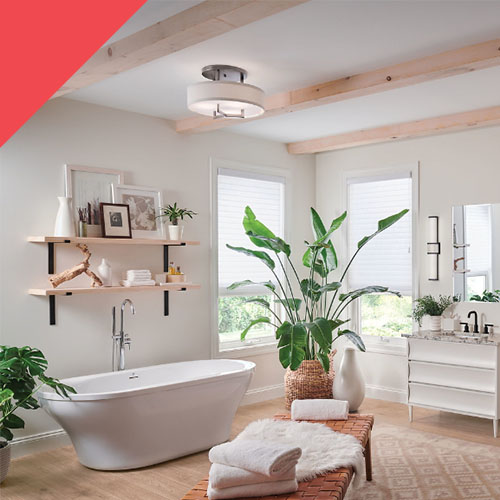 Start From the Top
When you begin to think about your bathroom lighting remodel, it's best to start from the ceiling and then work your way down. This is because ceiling lights tend to be more general purpose lighting, and you want to ensure you have adequate lighting to begin with. For ceiling lights in your bathroom, consider flush mounts or recessed lighting, both of which give off large amounts of lighting.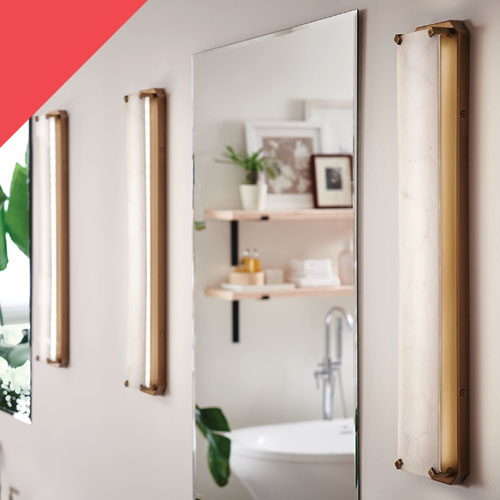 Move to the Vanity
Admittedly, you'll spend a lot of time in front of your vanity, from shaving and putting on makeup to brushing your teeth. You'll need great lighting in order to accomplish all of these different tasks. Luckily, Accent Lighting offers a plethora of vanity lighting to choose from, including two-lights over your vanity, wall sconces by the sides, or even pendant lighting. While you definitely need good lighting by your vanity, the styles are limitless and can meet your tastes exactly. Speak to a lighting designer to learn more.
Don't Forget Your Shower and Tub Areas
Most likely, you'll need separate lighting options for your shower and tub areas, especially if they are separated. Recessed lighting is a popular choice because it's very resistant to water and offers a high level of task lighting. You can add smaller lighting for your shelving spaces. A wall sconce can add great ambient light by your shower, as well as contribute to task lighting. If you are one to be using your bathtub a lot, consider a special piece of lighting that speaks to you, whether it's Tiffany-inspired or just a simple, quirky design you love. It'll bring a smile to your face every time.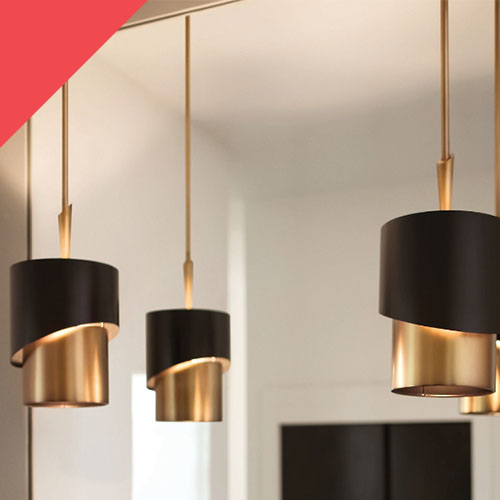 Incorporate Decorative Lighting
Sometimes it's just nice to have decorative lighting just because. Decorative lighting is mostly for ambient or accent lighting. In your bathroom space, it can also serve as great night lighting because they tend to offer more diffused lighting that is not so harsh on the eyes at 2 AM. Great ways to use decorative lighting in your bathroom include highlighting a favorite painting or photograph, using it on a small table, or just for looks. One of the best things about decorative lighting is that it can add a glamorous touch, which reflects that mood into the room itself. Let our lighting designers help today.
Layer Your Bathroom Lighting
Layering your bathroom lighting can ensure your bathroom is beautiful. The layering of light makes sure that light is evenly distributed so that you see the entire space each and every time. One great way to layer the lighting in your bathroom is to mix up the temperature of your light bulbs. When you have warmer light paired with cooler light they balance each other, creating a soothing effect. Using chandeliers for ambient lighting along with flush mount is a popular way to layer lighting in bathroom remodels in Wichita. Ask our lighting designers for recommendations today.
Prioritize Natural Lighting
Natural light has the ability to lift our spirits; whereas, artificial lighting simply cannot. Natural lighting changes throughout the day and even the seasons, which our eyes love to soak in. For your bathroom remodel, you want to be sure to prioritize your natural lighting in order to yield the best results. If you are performing a complete bathroom remodel, consider adding more windows into your bathroom design to add the soft glow we all love and cherish.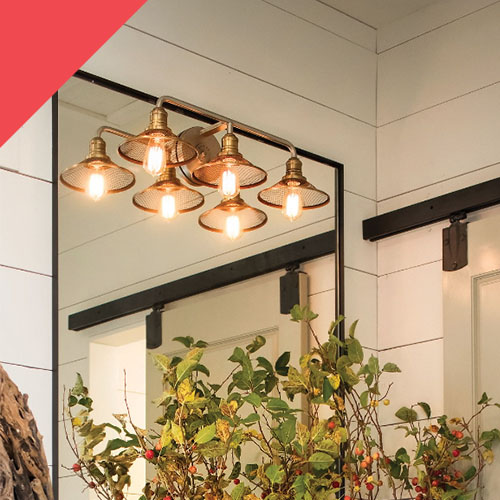 Consider Backlighting for Drama
Backlighting adds drama, no matter if you are talking about your bathroom or even on stage. Lighting from behind evokes mystery and surprise, and for bathrooms, they can add interest and bring a style all their own. You can backlight your mirrors, cabinets, photos, and even add backlighting in your toilet area. It can also add a dazzling effect to highlight certain architectural details, or they can illuminate your space without any harsh shadows. Since they are a different bathroom lighting technique than the norm, you'll most definitely add interest and mystique to all who enter.
SHOP AT ACCENT LIGHTING IN WICHITA TODAY
Accent Lighting is proud to help Wichita homeowners and business owners with their bathroom remodeling needs. We also offer consulting services for home builders and contractors who are looking to build bathrooms with great lighting. From restaurants and office buildings to large industrial parks, our lighting specialists can ensure your new bathrooms appeal to the users, are functional, and garner attention. Our team of highly trained lighting specialists can work with you and help you design a stunning bathroom you'll enjoy.
In addition, Accent Lighting offers thousands of exterior lighting, home decor accents, and fans. Our mission is to supply you with what you need to make your home or office space comfortable. To get started, stop by our 10,000-square foot lighting showroom in Wichita, or browse online today!