Lighting by Room
BATHROOM LIGHTING
The bathroom is no longer a simple space where you brush your teeth, take a shower, and get ready for work or for bed. These rooms are now designed to be luxurious and relaxing, where you can pamper yourself with a nice, hot bath or enjoy your own vanity mirror without having to share with someone else. When it comes to lighting, the fixtures should reflect the luxury you've worked hard to create.
You can consider replacing that old flush mount fixture on the ceiling with a small chandelier. The chandelier can be any style you like, as long as it works well with the new vanity fixtures. For the vanity, it could be better to go with wall sconces on either side of the mirror, instead of the traditional fixture that is installed above the mirror. Light from the sconces can help you see better as you stand in front of the mirror, and can eliminate those unwanted lines and shadows that above-mirror lights are prone to create.
For the bathtub and shower area, think about adding recessed lighting, along with a new exhaust fan. These recessed lights can be placed on their own dimmer switch, giving you total control over what mood you want to set while you soak in the tub or take that early morning shower before work.
Whatever bathroom lighting you need, you can count on us to help you find the right options!
BEDROOM LIGHTING
The bedroom is your retreat from the world, a place where you can get away from it all, even only for a few hours. You've set the space up to be comfortable, and the new lighting you choose should add to that comfort. Everything from the bedside lamps to the ceiling fan or chandelier should make you feel at ease whenever you're in the room.
For the overhead, or ambient, lighting, you might be tired of looking at an outdated ceiling fan. Replacing the fan with a newer model can improve the aesthetic of your bedroom, while maintaining the climate control you need during those hot and humid Kansas summers. If you'd rather have a chandelier or pendant light on the ceiling, our showroom is filled with fantastic options.
Wall sconces and lamps will provide the accent and task lighting you need, with the bedside lamps being perhaps the most important. Sconces add a nice touch, but your lamps will be used every night before you go to bed, whether you're reading a book or browsing social media before turning out the lights.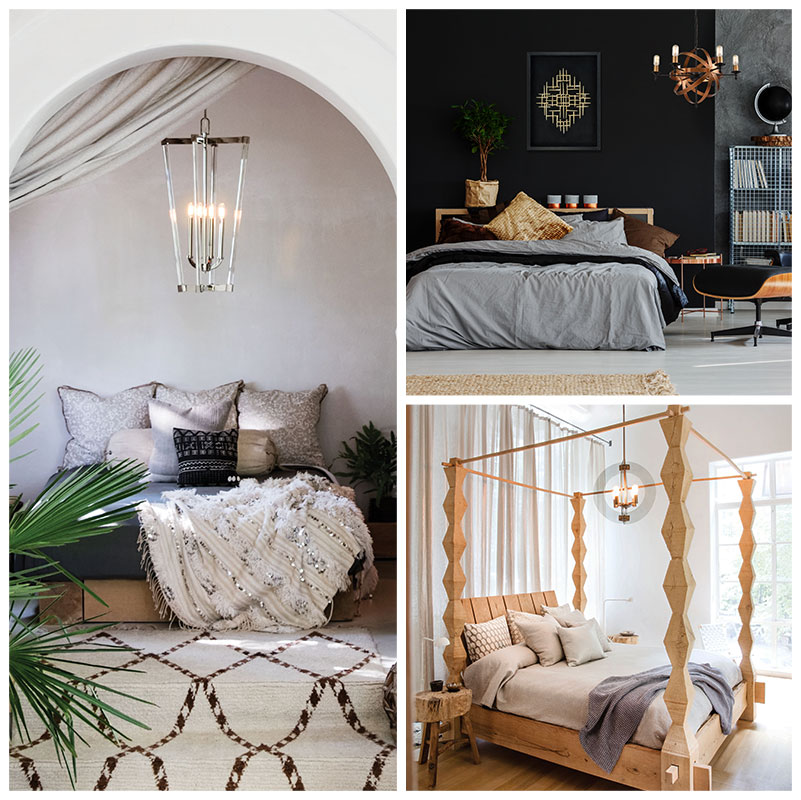 DINING ROOM LIGHTING
You may not use your dining room as a formal space too often, but you still want it to have the right lighting design. If the chandelier you currently have doesn't fit the space, or you want to replace it with something more modern, our team is ready to help.
The chandelier is, of course, the central focus of any dining room. It needs to be the right size for the space, since you don't want it to dwarf the table and chairs. It also needs to be installed at the proper height so that there's no risk of anyone bumping into it as they sit down or stand up. Once you've chosen a chandelier, you can complement it with new wall sconces and buffet lamps of the same or a similar style.
Whether you use your dining room for dinner parties, bookkeeping, or homework, you'll love having new light fixtures throughout the space!

ENTRY/FOYER LIGHTING
When people enter your home for the first time, they usually take time to look around and compliment you on the design of your house. With the right entryway and foyer lighting, you can create a great first impression on anyone who steps through the front door!
It's important to know the dimensions of your entry before choosing new lights for it. If the ceiling is eight feet high, you'll want to go with a flush or semi-flush mount fixture that doesn't hang too far into the space. If you have a two-story foyer, then you can look at large chandeliers to create a statement piece for the space. For accent lighting, consider sconces or floor and table lamps. These fixtures bring the lighting down to eye level and can make your front entrance more inviting. Adding a mirror in the right spot can make the space feel bigger by reflecting light around the entry.
The right entry and foyer lighting can make any guest feel at home. Find your new fixtures today!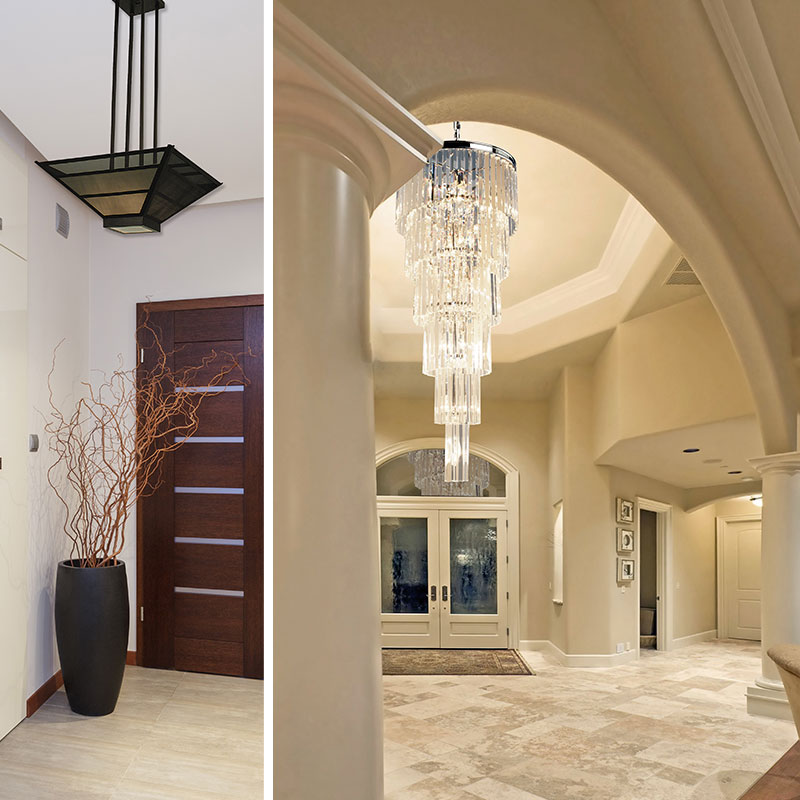 GAME ROOM LIGHTING
The game room is often one of the most popular rooms in the house. You and your family spend hours there, playing pool, watching TV, and enjoying each other's company. When you have friends or relatives over to watch the game or for a poker night, this space is where everyone gathers.
When it comes to game room lighting, it's important to think about each area of the room and what its purpose is. For the pool table, you'll obviously need an island or billiards light, so you can see as you play. If you have a bartop or seating area, then small lamps are a must. You can also hang pendant lights above the bar for additional accent and task lighting.
If the room has a home theater or viewing area, then recessed lights are the way to go. Since they don't hang into the room, they shouldn't create unwanted glare on the TV screen. You can put these fixtures on dimmers so you can lower the lights and create the perfect ambience for family movie night.
Update your game room today with new lighting options!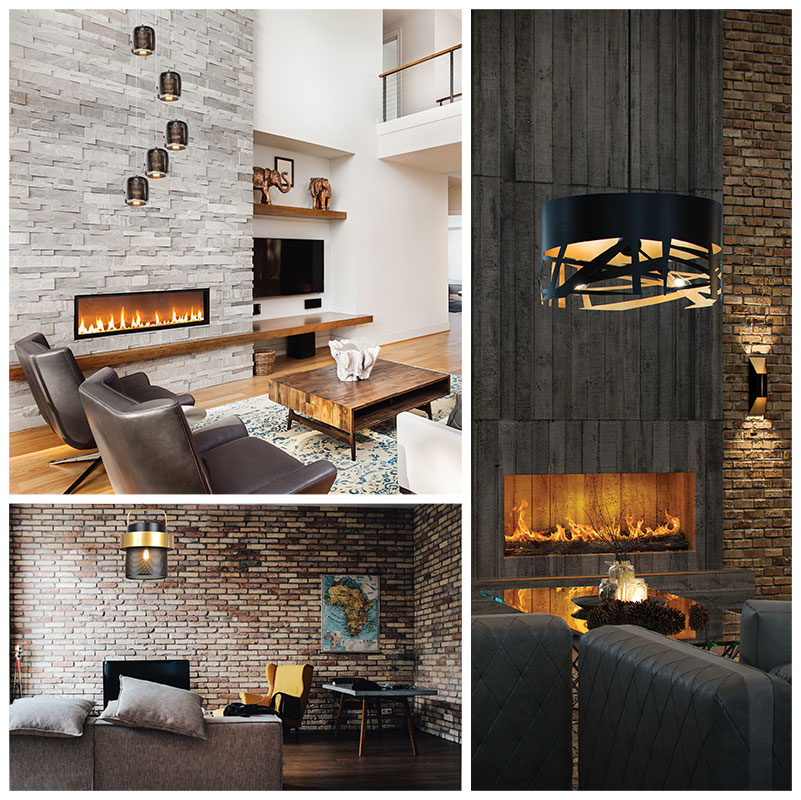 GREAT ROOM LIGHTING
The great room, or family room, in your home is often a large space on the first floor of the house. It's the first area people enter after coming down the hallway from the front door, and because of its placement on the first level, the great room gets plenty of natural light throughout the day. However, once the sun has set, you want the space to have the right lighting for relaxing, conversation, entertaining, and more.
For the main light fixture, consider installing a chandelier or large pendant light. You can size this fixture based on the length and width of the room, as well as the height of the ceiling. A fan is a good option as well, given that it fits with your new lighting design. Recessed lights can also provide ambient illumination around the perimeter of the room.
For accent and task lighting, wall sconces and lamps can provide the light you need for reading, relaxing, and more. If your great room has a main seating area in the middle of the space, add a large floor lamp that can illuminate this area. Floor lamps are also great for corners where you have a favorite chair, and table lamps will add lighting and style to end and side tables.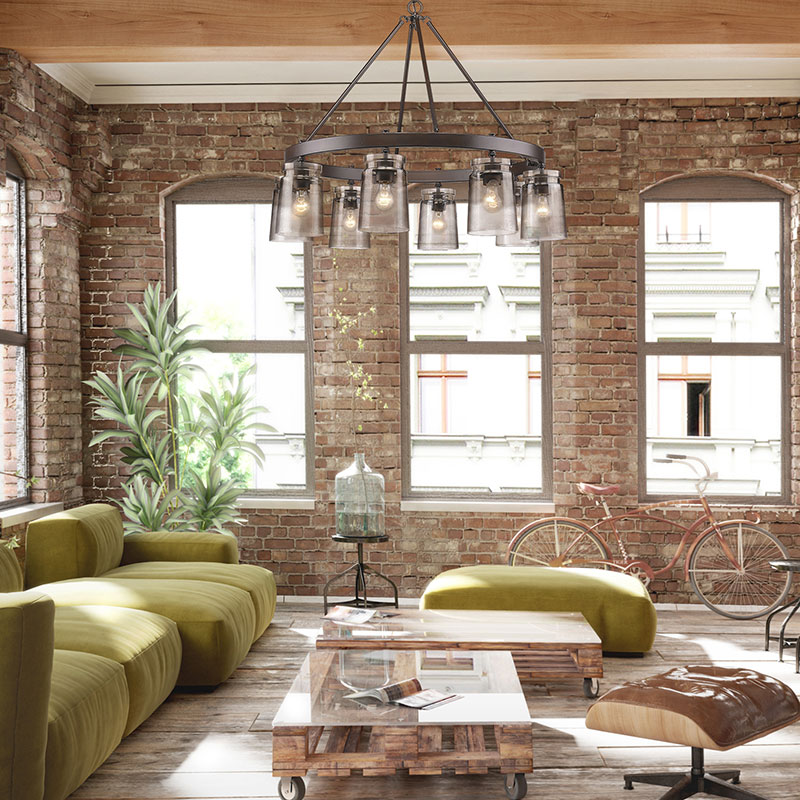 HALLWAY LIGHTING
Hallway can be challenging to light, given their extended length and limited width. If you have a long hallway leading from the front entry to the great room or living room, you'll want to have a ceiling fixture every eight to 10 feet. These ceiling lights can be complemented with wall sconces in the spaces between each overhead fixture, but make sure your hallway is wide enough to accommodate new sconces. You don't want people bumping into them!
If your hallway has a ceiling that's higher than eight feet, think about installing pendant lights instead of flush or semi-flush mount fixtures. Pendants can feel more decorative and cast light both upwards and downwards in the hallway. Recessed lights are also an option, but you don't want to rely solely on them for ambient illumination.
As for lighting controls in your hallway, you'll want to be sure you have switches for all lights on both ends of the corridor. This will allow you to turn the lights on or off as you enter or exit, which makes life much easier!
LIVING ROOM LIGHTING
Perhaps your home doesn't have a great room or family room, but it does have a living room. This space is also designed for relaxing and entertaining, but it's a large room where you can have multiple seating areas or reading nooks. It still serves its purpose as a living space, and it deserves the same attention to detail when it comes to lighting design.
As with any room, it's a good idea to measure your living room before you start shopping for new lighting. The dimensions of the room will let you know how much illumination you need for your ambient, accent, and task fixtures. Once you have the right number, you can pick out a chandelier or pendant for the ceiling, along with lamps and sconces for the walls and end tables. You may only need one floor or table lamp for your living room, but having the right one can make a big difference.
If your living room has a TV in it, then you can apply the same idea you did for your game room — install recessed lights above the viewing area to provide illumination and reduce glare on the screen. As for lighting controls, install a dimmer switch for the recessed fixtures, as well as individual switches for each dedicated light, such as the chandelier and the wall sconces.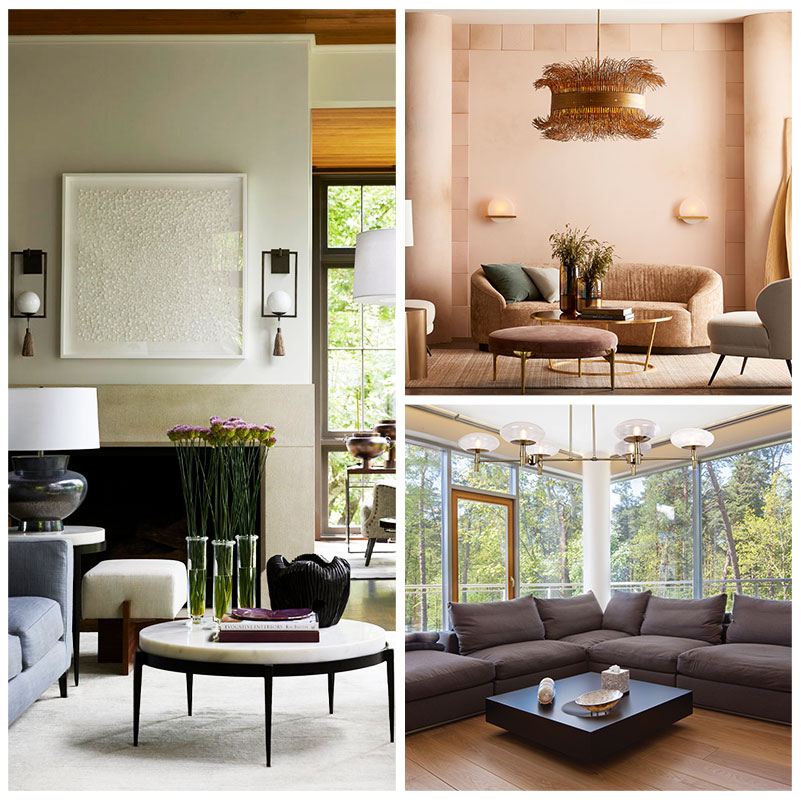 KITCHEN LIGHTING
If you love to cook, then a majority of your time might be spent in the kitchen. You love preparing delicious meals and having people over to enjoy the food you've made. When in the kitchen, it's easy to notice if the lighting isn't right, and if your kitchen is due for an upgrade, our staff can help.
For ambient lighting, recessed lights, along with a new central fixture, can be the perfect addition. The central light can be whatever you want it to be, just be sure to keep the height of the ceiling in mind. Your accent and task lighting will come from your island fixture, which can be one light with multiple bulbs, or individual pendant lights, usually installed in groups of three or five. Under cabinet lighting is also a must, as you need to be able to see as you stand and work at the countertop.
If you have a dine-in kitchen or a breakfast nook, consider installing a small chandelier above the table. This fixture should tie into the design and style of your other lights, making your kitchen feel cohesive and complete. Should you have any questions about kitchen lighting design, you can contact us at any time!

OFFICE LIGHTING
Working from home can be very enjoyable, as long as your office has the proper lighting. Bad overhead lighting or a lack of task lighting can cause eye strain and quickly put a damper on your productivity. By adding new ceiling fixtures and the right desk lamp, you can improve your home workspace in no time at all.
For the ceiling lights, you'll want to be sure they're the right color temperature for computer work and other tasks. You don't need to replicate the bright fluorescent lights of a commercial office, but you do want the bulbs to be the proper color temperature for prolonged screen time, reading, and similar tasks. You can add a floor or table lamp next to a chair where you sit and read paperwork, and a desk lamp is a must for the amount of time you spend checking email, typing, and getting things done each day.
Home office lighting doesn't have to be simplistic or minimal, and you can bring some design touches into the space with the fixture styles you choose. Visit our showroom or online catalog today to get started!

OUTDOOR LIGHTING
Your outdoor spaces are extensions of your indoor spaces, and you want them to be comfortable. From the chairs on the front porch to the seating on the backyard deck, you want to create areas where people can gather and enjoy quality time together. When it comes to outdoor lighting, the two main goals should be ambience and safety.
For ambience, think about how you want people to see your home as they arrive after sunset. You want them to be greeted by the warm glow of a porch light, as well as the perfect landscape lighting that accentuates the front of your home. For the backyard, think about the intimacy that lantern lights on the deck posts can create, along with the right outdoor chandelier or string lights hanging above the outdoor dining area.
When it comes to safety and security, lights need to be put in the proper spots. Spotlights and motion sensor lights on your garage can deter intruders, and pathway lights will help guests see as they make their way through your property. Step lights are also a good choice for safety purposes, as they can help ensure no one trips and falls as they enter or exit your home.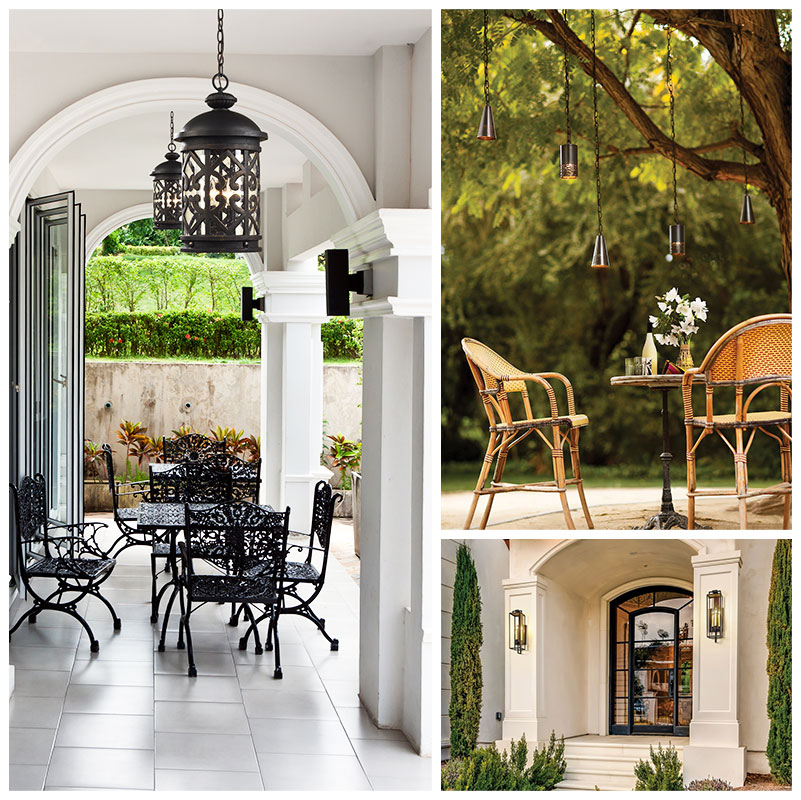 FIND YOUR NEW LIGHTING TODAY
No matter which room you're focused on for new lighting, our team is here to help. At Accent Lighting, we're dedicated to providing every customer with the perfect lighting options, whether that's for the bathroom, the bedroom, the kitchen, or the back patio. Look through our online catalog today to shop online or to find inspiration, or visit our showroom to speak with a member of our team.
We Look Forward To Seeing You Soon!