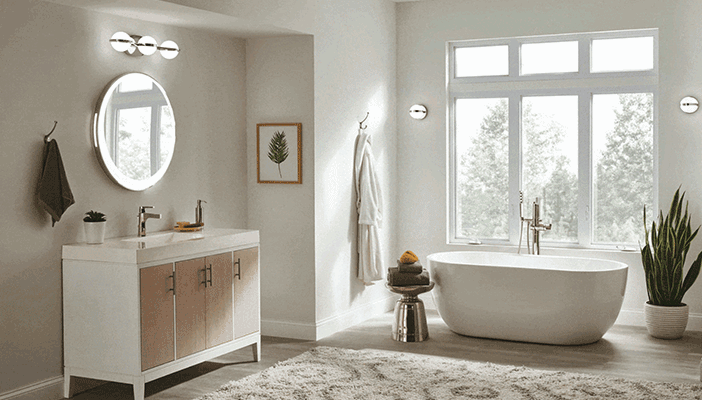 When thinking about bathroom lighting, odds are, you probably just want to think about a new bathroom lighting design every now and then — not on an ongoing basis. Here at Accent Lighting, you can shop at our 10,000-square foot lighting showroom, the largest in south central Kansas, and see hundreds of possible lighting designs for your home. Our lighting specialists and designers can help you with advice on the latest trends and styles for your space. Below, we'll go over some of our favorite bathroom lighting options that we believe are for the ages. Shop in person, or browse online today!
---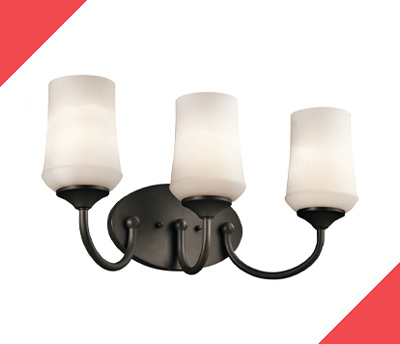 We love three lights for the space above the vanity in your bathroom, which provides adequate lighting but does not overwhelm the space. This great piece has a tapered column design and a bronze and satin finish that will match any decor. Can be traditional or modern in design. The soft white lights never go out of style, and you'll love the look and feel this brings to your space. Shop all of our three-light vanity sets today.
---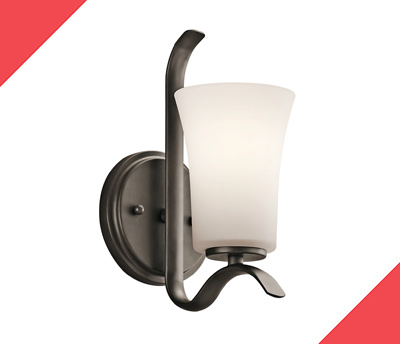 Wall sconces are a great way to add ambient light to your bathroom decor in an easy way. You can choose either a single light, such as this bronze wall sconce, or multiple lights. They can be hung in out-of-the-way places and can melt into your decor if you so choose. There are hundreds of designs of bathroom wall sconces to choose from at Accent Lighting, and you truly should see them in person to imagine them in your space. Stop by our lighting store in Wichita today.
---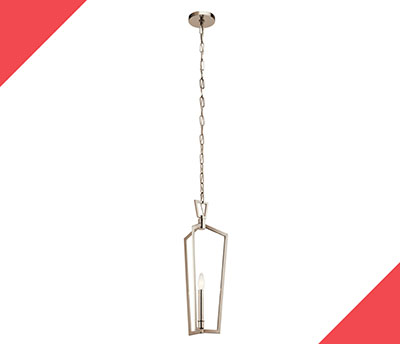 Pendant lighting is favored the world around due to its variety, style, and ambiance it brings to a space. Bathroom pendant lighting can truly add a great look and feel, and can be used in almost every corner of your bathroom space, from around your vanity mirrors to your toilet space. This mini-pendant features minimal lines with intersecting pentagons in a cool polished nickel. Use with any bathroom decor, including updated traditional, transitional, or modern farmhouse.
---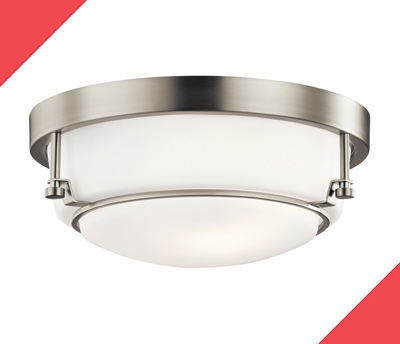 Many people overlook the power of a flush mount light in their bathroom space. Flush mounts are wonderful additions that can either melt into your bathroom decor, given your preference, or take a prominent place. They are superb for supplying your general lighting needs, and they come in so many styles and finishes that the sky's the limit. This flush mount is one of our favorites, as it combines simple angles and slim rings with a cool touch of industrial detailing to offer a timeless, ageless look. Choose from nickel or brushed nickel today.
---

Accent Lighting in Wichita is your go-to lighting store for all of your bathroom lighting needs. Not only do we offer bathroom lighting, but we also offer a plethora of choices in outdoor and landscaping lighting, as well as ceiling fans. Our mission is to help you make your home or office space warm, cozy, and inviting. Founded in 1979, our lighting specialists are highly trained to help you with interior design and lighting layout services. We offer an extensive collection of home accessories, accent furniture, prints, hardware, and more. You'll never know what you'll find when you visit! Stop by to shop in person, or browse online today!